In Memorial
Chippy
22 year old Paint Gelding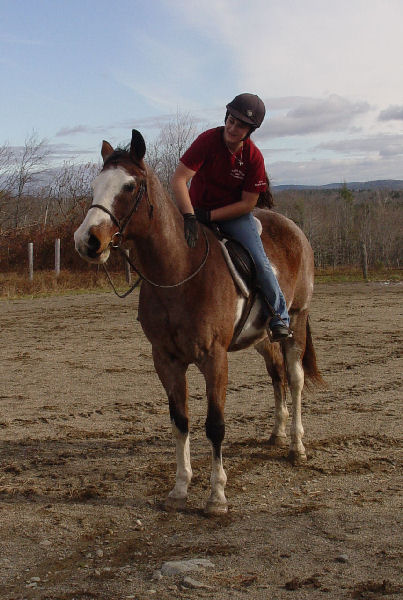 CR Whoop Excuse Me was his registered name.
Chippy or Chipper was what he answered to at the barn.
He was a very willing lesson horse.
He gave us all we asked for and more.
Chippy looked for kisses on his nose.
He had a long history of playing too hard
or just taking a misstep in the pasture and each time he came back.
Until that day in early January when his heart gave out.
January 3, 2018 Chippy left his tired body and crossed
over the Rainbow Bridge where he will be forever young and without pain.

Belle
20 year old Percheron mare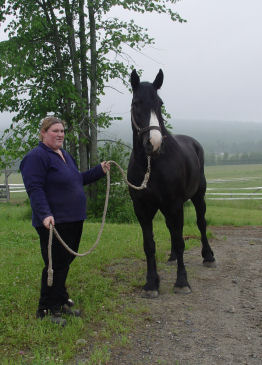 Belle was our boss mare. She was the protector.
Whether is was an unruly puppy that came over from the ball field or
a panicky horse whose blanket had slipped and was tangled on his legs.
She would put her body between her herd mates or humans.
Belle had made great strides in dressage training
and was quite impressive to watch.
Late in April, 2017 she let us know that she wasn't feeling good.
She was very stoic and didn't often show her distress.
April 29, 2017 Belle died and went to join her buddies
Across that Rainbow Bridge.

Buckshot
21 year old Appaloosa gelding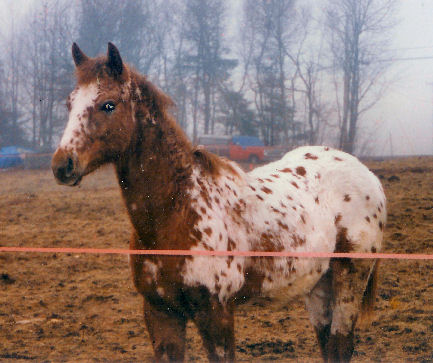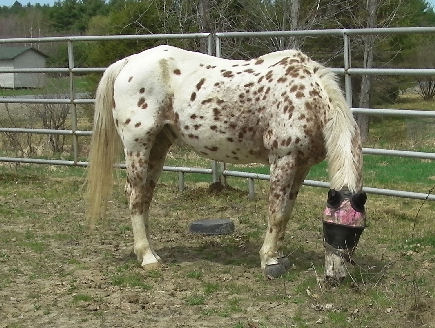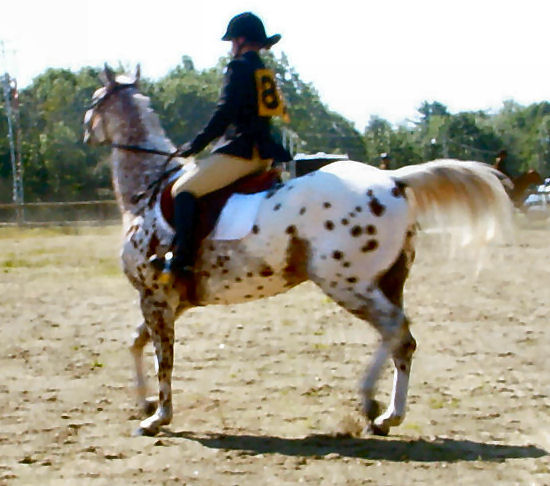 Buckshot was often the class clown and
When there was trouble brewing we looked to see what Buck was up to.
It might be an escape from the pasture and a long game of "catch me if you can".
He liked treats and would nod his head up and down when asked if he wanted a cookie.
This past year he proved what a solid therapy horse he was.
He was gentle and calm with the young students that came for lessons.
Sadly health issues caught up with him.
June 3, 2016, Buckshot made that walk across the Rainbow Bridge
To sweet pastures and playful times with old friends.
Buckshot, there will never be another horse like you.
---
Smokey
23 year old Paint/Thoroughbred Gelding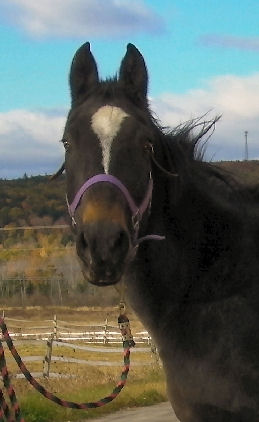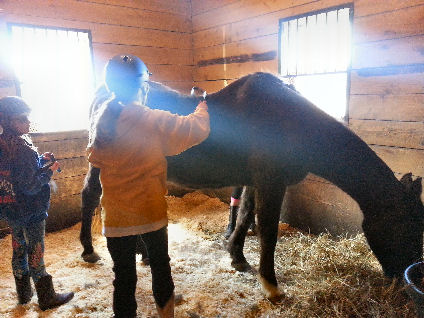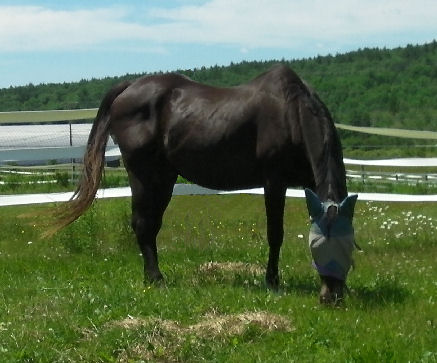 Smokey had done it all from Dressage to Chasing Cows.
Trail rides or racing along the road back to the barn
He came to us in the early spring of 2015
He made a valient effort to give us everything he had
But as winter began to let go and spring was showing signs of life
Smokey was letting us know that he was ready to let go as well.
June 3, 2016 Smokey crossed the Rainbow Bridge
and will be waiting to greet us on the other side.
Thank you, Smokey. You will be missed.
---
Teyla
27 year old Quarter Horse Mare



Teyla has had many names during her long life.
Her registered name was Echos Lil April Star.
She has been called Lily, Pepsi on Ice and finally Teyla.
We couldn't have asked for a sweeter and more willing lesson horse.
Age and the aches and pains of arthritis finally caught up with her.
She went to join her friends at the Rainbow Bridge September 17, 2014.
Teyla leaves a hole in our hearts as we say good bye to her for the last time.


Teyla, we love you.
---
Breanna
18 year old Morgan mare



Breanna was a show horse and companion for many years.
Her last big event was the 4-H Eastern States Exposition in Springfield, Massachusetts in September 2012.
She was always willing and trusting. She was an all around horse that would try anything she was asked.
Breanna recently made a very special visit to a nursing home to visit one of her biggest fans, her owner's grandmother.
Breanna passed from this life on December 10, 2012.
She did not want to leave but the call from her old friends, Magic and Sweetie, was very strong.
There will never be another Breanna.
We will miss you.
---
Daisy Mae
14 year old Quarter Horse


Daisy Mae went to join all the happy, healthy horses in Horses' Heaven on October 20, 2009.
In the words of a 5 year old, "She will be going to see Magic and Magic will help her become a Unicorn.
Daisy came to us in the summer of 2008.
Daisy adored being pampered. She loved the attention.
She has enjoyed going to the far pasture with the other horses where there is lots of grass to eat.
Be happy Daisy, you were loved and will be sadly missed.
---
Magestic, better known as Magic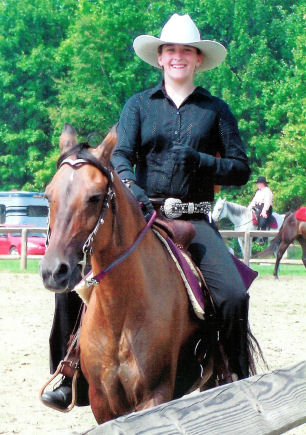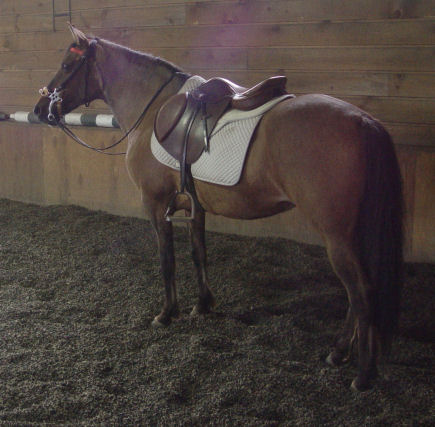 16 year old Paso Fino

April 29, 2009, Magic went to reunite with her best friend Sweetie who passed away just two years ago.

Magic was a wonderful "Games Pony" and traveled to Kentucky in 2007 to compete nationally. She knew the games and seemed to love them.

Magic spent her last week doing what she loved, giving demonstrations of Games and letting young students ride her one after the other while she took them around the bending poles and waited while the kids hung over her side reaching for a flag. Her smooth gait made it easy to carry an egg on a spoon without dropping it. The kids loved her and cheered for her as she raced to finish first.
Magic is gone from this life but will live on in our hearts forever.
---
The Sweetest Candy aka Sweetie
14 year old Registered Welsh Mountain Pony
Reigistered Show Pony



Sweetie (left) on her first day at a new home several years ago. She is being greated by Breanna.

She did everything. Short Stirrup, Games, Driving, Jumping, Trail riding.
She was used for Pony Rides for fundraisers and she was the big money raiser.

On May 18, 2007, Sweetie went on ahead to blaze the trail for others to follow. She was very small but quite brave.
She was there to greet Magic with soft nickers and a gentle nuzzle once Magic had "crossed over".


---
You may add your "Loved and Lost" horse to our page by sending a picture with information about it to Contact Us.
---